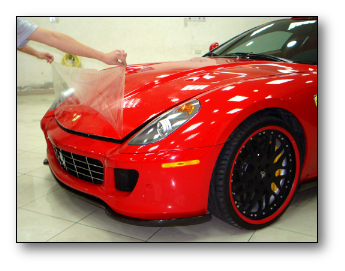 3M VentureShield
Paint Protection Film
3M VentureShield Paint Protection Film is a clear thermoplastic urethane film made from 100% aliphatic resin which when applied to a vehicle's surface reduces stone chip and sand erosion damage.
It's ability to resist yellowing, and offer the highest level of abrasion resistance is unparalleled in the automotive industry. Stones literally bounce off your car's surface without leaving a costly chip and sand erosion of the paintwork is prevented on protected areas, all helping to maintain the value of your vehicle.
Our Paint Protection Film has an optically clear, high gloss finish. This clear paint protection system also offers UV protection. It will not damage the vehicle's paintwork whilst on or during removal. Guaranteed!
3M VentureShield will withstand the impact of years of stone chipping and weathering. Originally developed to protect the rotor blades on helicopters from the searing blast of the desert sand. VentureShield has been tested and approved around the world with leading car manufacturers such as Rolls Royce, Ferrari, Porsche, Mercedes, VW, Toyota and Nissan.
We are so confident in 3M's VentureShield and the quality of our fitting that we offer a lifetime warranty!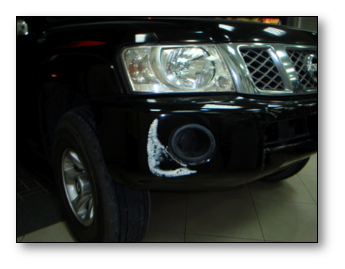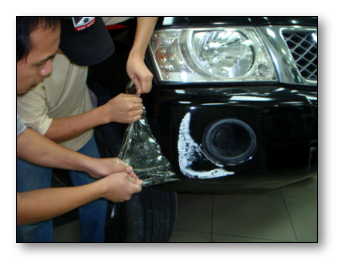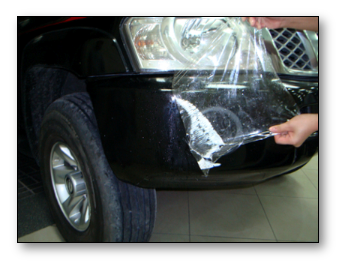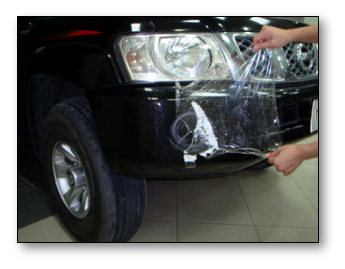 Paint Protection Film Removal
Following Minor Accident
In this sequence of photographs we see the removal of 3M's VentureShield following a minor accident. Note the damaged film prior to removal and the undamaged paintwork once the film has been completely removed.
Why Cars Protection?
Cars Protection was the first to introduce Paint Protection Film to Qatar and GCC in 2005
Fully trained and certified staff to ensure quality workmanship and 100% customer satisfaction
Computer designed and machine cut vehicle templates for precise fitting and alignment of film
Extensive database of vehicle templates updated for the very latest vehicle models
Authorized 3M Autocare Centre and certified installer of 3M films
Convenient workshop locations and we are expanding!
We offer a lifetime warranty on our Paint Protection Film range and a free wax polish every 2 months!